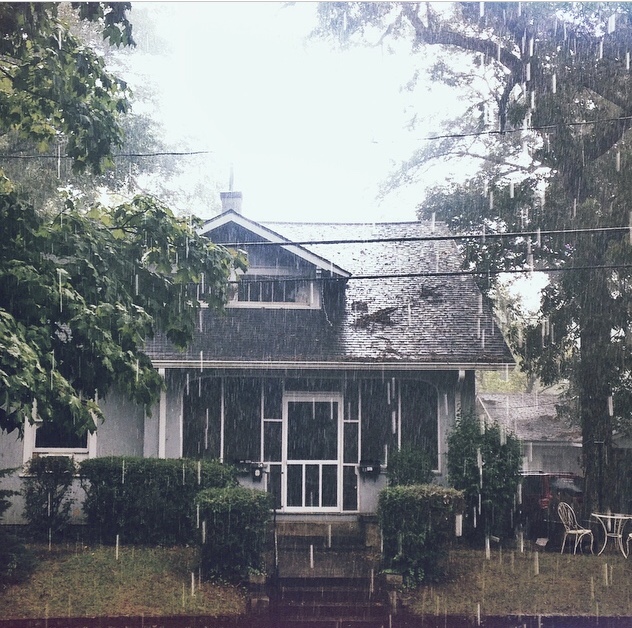 There's not much better...
than Ladydale on a rainy day! The windows upstairs were the main part of our tiny attic apartment.
STORY
Dear friends,
Every letter tells a story. Here is mine.
I have always loved making things for people. In August 2013, I needed to raise money for a mission trip so I began making and selling cards to people. Unfortunately, our trip was cancelled; however, orders were not! In fact, they were more plentiful. Thus, Ladydale Letters was born.
Ladydale is a little old house on Springdale Street in the best city on Earth: Athens, Georgia. Springdale Street is part of the Bloomfield Historic District and it's where "Springdale," a notorious house of rowdy male Younglife leaders, is located. But across the street is a small, blue house built in 1958 that a few lady leaders call home, giving rise to the name "Ladydale."
Ladydale is much more than a house, though. It's where people spend slow mornings on the screened-in porch and stay up late into the night belly-laughing with friends. It's where meals are made and feet are warmed by bulky gas heaters. Most importantly, it's where Jesus is. He's in the lime green walls, the old screen door, the tiny stove. He's in the dust and cobwebs in the corners. Simply put, He is present there.
And just like Ladydale, "Ladydale Letters" became a way to spread joy. I believe that letters have the power to change lives, whether it's through encouragement or truth. When you purchase a card, a painting, or a drawing, know that by doing so you are participating in a bigger purpose: to spread the joy!

And that is my story.
-Allison, Creator of LDL
allison@ladydaleletters.com